FAQ
Where is Kabondo located?
Kabondo is located in Western Kenya, approximately 70 km from the city of Kisumu at Lake Victoria. The orphanage itself is located in the smaller town of Kadongo. This is a few kilometers away from the tarmac-road, in the remote countryside. For more information, please see: http://www.fallingrain.com/world/KE/07/Kabondo.html
Can I financially adopt and orphan?
We often receive questions on the possibility if financially adopting a specific orphan. We have investigated the options, and have run into several hurdles. Firstly, financial adoption between a "Kenyan orphan" and a "European parent" is administratively burdensome, labor/time intensive, and leads to social problems (i.e. favoritism experienced by the selected child creates tension at the local community level). Expectations are created (visits, exchange of letters, being a part of Hope's family, visiting Achieng…) which are unrealistic. For this reason, larger, more experienced organizations have dismissed this form of support as non-viable.
It's also important to note that numerous small projects in the Lake Victory area are in the hands of foreigners. Our objectives are clearly defined: Priority is given to the orphanage and orphans living alone, as well as support to the local community where synergies exist.
Education plays a crucial role in creating opportunities for societies, however our philosophy is that parents from the community – by working and improving their own health – take responsibility for their children's education.
A specific process has been worked out for orphans living alone. In such cases, orphans are visited by social workers, are placed in a local foster family when possible, or are assisted in maintaining their huts. More recently our Foundation has set up a process to complement school tuition for orphans living alone. We would ask interested sponsors to set up a monthly payment scheme over a longer period of time for this purpose. Wire transfers can be made to Private Foundation's KBC-account number 737-0170135-40 (IBAN:BE02 7370 170 13540, BIC: KREDBEBB), making mention of SCHF-B-Z (a code set up to signify your specific interest in this type of support).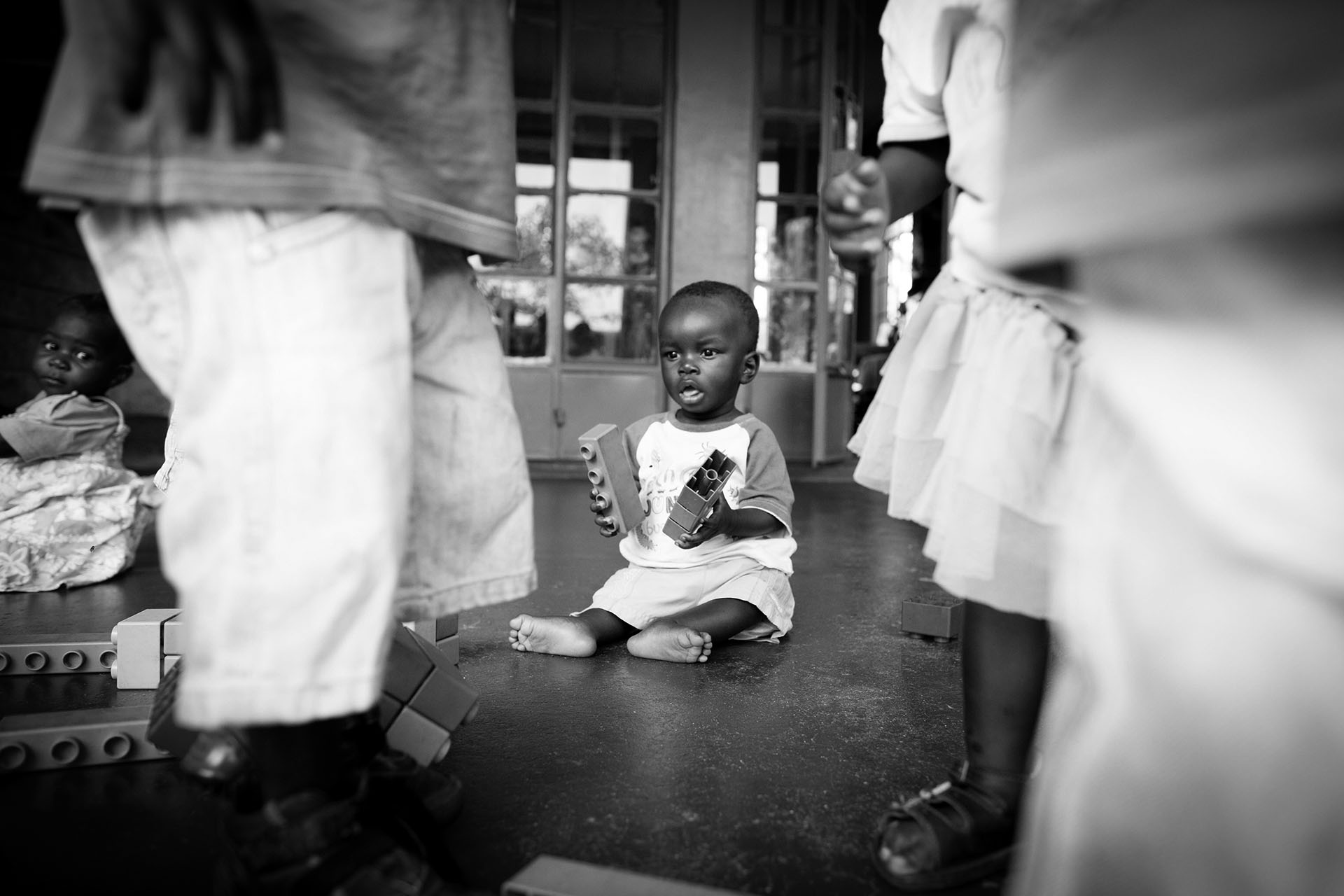 Can I get involved as a volunteer?
During this past summer, the first two volunteers from Belgium traveled to the orphanage for 6 and 9 weeks respectively. Both returned prematurely. The African terrain poses great challenges to Westerners (change in diet, lack of communication, no privacy, limited healthcare infrastructure). The African co-workers also struggle with certain Western habits, such as smoking amongst others. Experience has taught us that it takes a great deal of energy and patience for both sides to constructively work together. We have therefore decided that for the time being, no European volunteers will be recruited.
Can I visit the project?
The orphanage is located in a remote area of the countryside, and can only be reached by four-wheel drive. Achieng has agreed that interested parties are welcome for short visits at her mother's, mama Martha's, house, after receiving written approval. Accommodation in 2 huts (tidy by sober) is available for rent. Sanitary facilities are limited. Those interested can contact us for further information.
Can we collect clothes and toys or other supplies for the project?
Transport costs to Kabondo are prohibitive, therefore collecting clothes and toys on a large scale is not useful. Second hand clothes are available on the local market at good prices, and toys are available. A playground is being built in the near future. Western products purchased in Kenyan supermarkets are very expensive, particularly diapers and formula. These are purchased locally for the little ones (older children wear cloth diapers, with a protective plastic panties during the day). We are exploring more cost effective solutions. All suggestions are welcome!
We are organizing a private party/sponsorship event to raise money for the project. How do we get started? Will a tax declaration be foreseen?
Your gifts are welcome, and can be wire transferred to our KBC account number: 737-0170135-40 (IBAN:BE02 7370 170 13540, BIC: KREDBEBB). Please note that tax declarations are not offered for gifts transferred to this account.
If advance approval is obtained, an overview of the gifts made for a particular fund raising event can be obtained for tax purposes. For more information on the procedure, please contact: DMOS-COMIDE; attention: Jan De Broeck.
We would like to create awareness for the project at our school. Would Annemie or Lieve be willing to come and speak?
We are supportive of awareness creating initiatives at school, and are grateful for your interest in the project. However, at the moment, Annemie and Lieve's schedules are very busy, and we are not able to respond positively to all unsolicited requests for visits. We will examine invitations on a case by case basis, and would encourage you to submit your requests. We are currently working on a photo-exhibition, with expectations for the material to be ready soon. Please let us know if you are interested in this. With regards to funds raised at school events, please let us know if you would like the funds used for a dedicated purpose, so that we can take this into consideration.